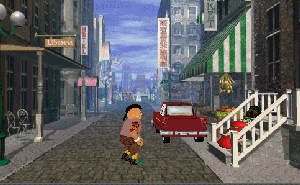 This movie by the real Andy Neilson is a must download! Funnier and all-around more poorly animated than the first Serial Killer, it's a gut-busting hoot!

Neilson really lays the bad voices on thick, too. For instance, near the beginning a city dwelling fellow says "Mister, mister!! I heard a gunshot!" to Slam. I don't know whether the tone of the man's voice made me want to laugh out loud or ring Neilson's throat. There is one aspect of Serial Killer 2 that did make me want to ring Neilson's throat; the overuse of short, looped music! AAARG! That's the one thing about the film that's not funny, so turn your midi off, folks.

The ending was also a disappointment. I shouldn't spoil it for you, so I'll just say it ended at the stupidest possible time, right when the real action started, and it didn't even say "to be continued"! Well download it anyway and maybe you can add-on your own ending.